December 1, 2021
Meet RNR Tire Express Franchisees: David Harrison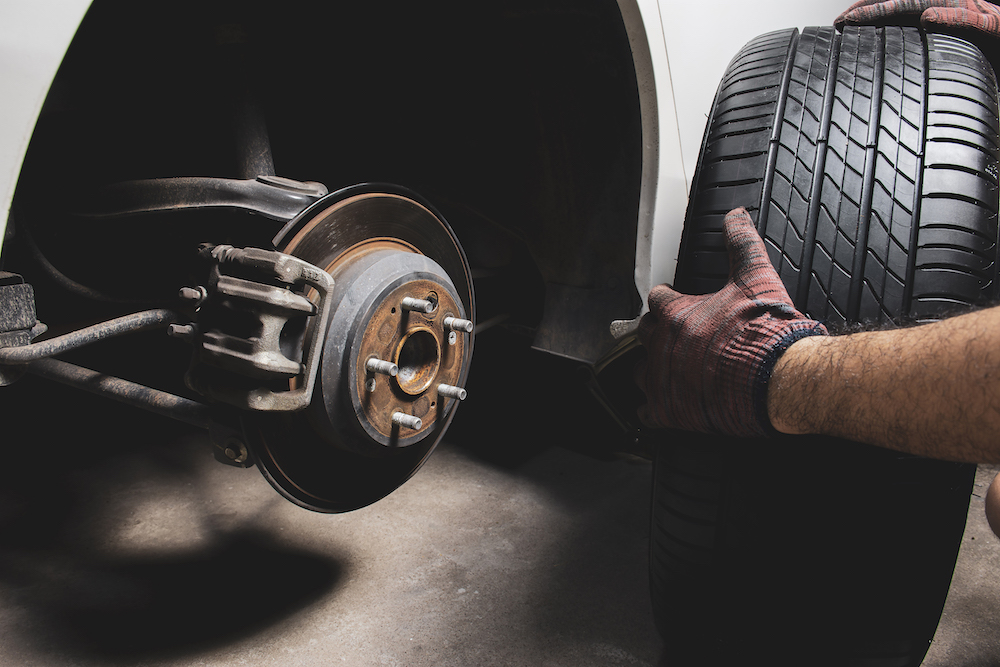 When David Harrison sent in his tax check to the IRS this year, he included a thank-you note. This RNR Tire Express franchisee is grateful to be where he is today.
"I was raised by a single mom who took in sewing jobs at night to make ends meet. For someone like me to have gotten where I am in life speaks volumes about the RNR Tire Express business model, it speaks volumes about the company itself, and it speaks volumes about God's plans for me."
Where did Harrison start his franchising journey, and how far has he come in the years since?
Starting Small and Scaling Up
Harrison opened his first store back in 2005. Today, he operates 28 locations and has become a partner in 5 others. That's a grand total of 33 units. After decades of work, he has become the largest franchisee within the RNR Tire Express system. He's also served an integral role in the growth of our wheel and tire franchise.
Harrison's influence has been noted by other owners within the system. This became apparent in an interview we conducted with Larry Carrico, an RNR Tire Express franchisee who helms multiple locations. He fondly recalled the early days of the franchise – and Harrison's role in steering the company to success.
During the economic downturn of 2009, Carrico explained, "Creativity came into play. David Harrison said, 'Hey, we've got to find a different model. In traditional rent-to-own, we don't sell refrigerators. We sell cold milk. We don't sell beds; we sell a good night's sleep. People aren't buying tires – they're buying a way to work and safety for the kids in the back of the minivan.'" That innovation paved the way for the future of RNR Tire Express.
Carrico summed everything up by saying, "David was one of the pioneers."
The Secret to Franchise Success
When we sat down with Harrison, we asked him the secret behind RNR Tire Express' track record of success. His answer? Ours is a niche business. "We have done a very good job of branding ourselves within the lease-purchase and retail tire replacement marketing industries." As a result, he says that over 40% of his revenue comes from existing and previous customers.
This trend holds true for unit-level economics. Harrison explained that his gross profit margins were higher than other typical tire stores. He said, "RNR Tire Express is a good, solid business model that works. It produces solid results."
The RNR Tire Express Model
The model Harrison refers to is the unique lease-purchase financing approach taken by RNR Tire Express. Instead of expecting customers to have cash in hand or significant lines of credit, our franchises provide an alternative method of payment. This underserved demographic is able to finance wheels and tires by leasing to own. The result? Happy customers who have months to pay off their purchases, and franchisees who continue to profit for months after each customer interaction.
The result? A total average revenue of $2,676,299* and an average operating income of $615,146.*
Most chains – large and small – don't offer this option for financing tires or wheels. But today, this specific approach makes up over 80% of RNR Tire Express' business. It's such a unique offering that our locations are able to flourish, even when they're right next door to competitors.
An Award-Winning Tire and Wheel Franchise
Various media outlets have seen what Harrison sees in RNR Tire Express. Entrepreneur, for example, named us #1 in the Automotive – Wheel and Tire category in their Franchise 500 rankings. This accolade comes from a thorough examination of each franchise within a category. The factors considered include franchise support, brand strength, financial strength and stability, and size and growth, among others. This type of recognition confirms what Harrison saw in RNR Tire Express on day one: a solid business model with unlimited potential.
Join the RNR Family
RNR Tire Express is one of the fastest-growing tire and wheel franchises in the U.S. More than 80% of our franchisees, including David Harrison, are multi-unit owners. These relationships are the core of our business, and we wouldn't have it any other way. To learn more about our lease-purchase model, your initial investment, and your potential earnings, download the RNR Tire Express franchise kit.
* See RNR Tire Express Franchise Disclosure Document for information about specific financial claims.